Looking to organise a Team Building Event in Melbourne?
Harder still, you've probably been asked to organise three theoretical Team Building Events just to have two of those ideas immediately thrown out!
It's no simple task, so we thought we would pull some simple information on Team Building Games in Melbourne into one place to make choosing the right Team Building Event that much easier.
If your group is large (we're talking 65 or more) the simplest option may be to go direct to bespoke team building event organisers such as Beyond the Boardroom or Uplift Events.
If you have been given a tighter budget to work with, you may want to show off your creativity and research skills by pulling together quotes from the below 2020 hit list!
1. Take on a Game at The Mystery Rooms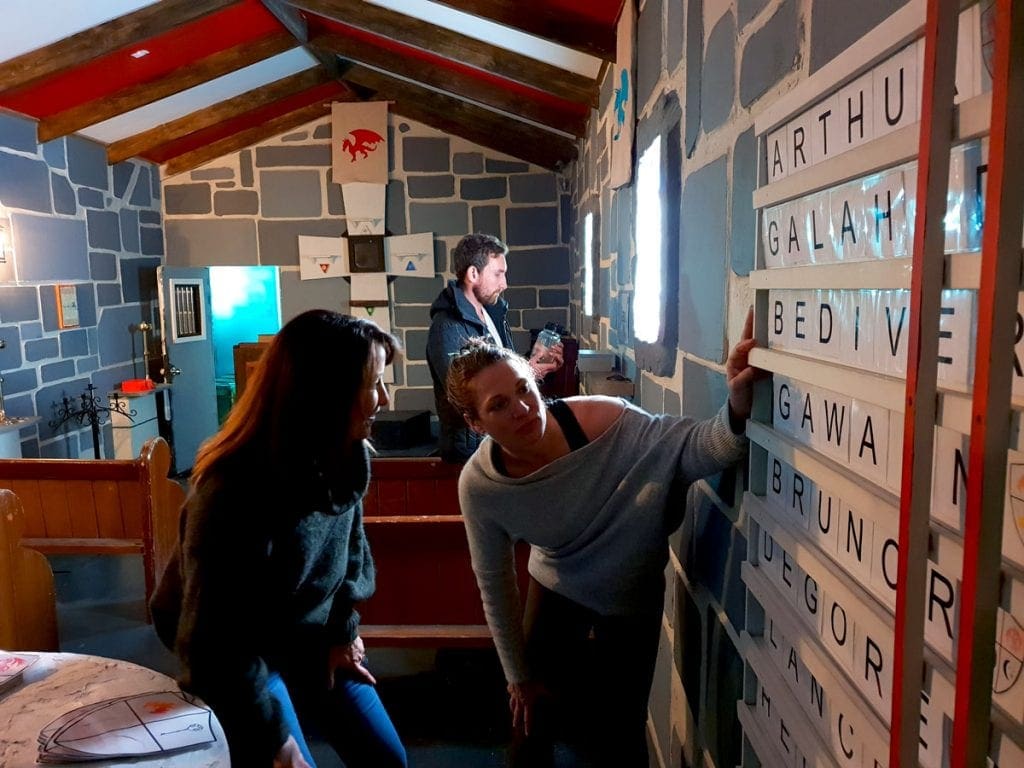 | Price | $45 per player |
| --- | --- |
| Duration | 90 mins – 3 hours |
| Group Size | 10-60 |
| Location | Fitzroy |
Incorporate Melbourne's Biggest Escape Rooms as part of your next team building event.
The Mystery Rooms caters for groups of up to 80 players providing entertainment, facilities and team building games for any group wishing to strengthen their team dynamics and have fun.
Packages range from a basic 60 minute game to private hire of our creative spaces for a full morning or afternoon.
Lunches can be ordered in during private hire bookings at no extra cost.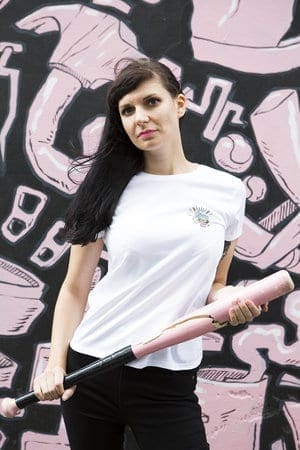 | Price | $ 45 per head |
| --- | --- |
| Duration | 10 minutes per player |
| Group Size | 1 player every 10 minutes |
| Location | Collingwood |
Had a really bad day at work, a fight with your partner or just feeling like you have a lot of built up anger?
Well now you can plan a team building event and deal with it by smashing crockery with a baseball bat.
It may seem crazy, but that's kind of the point of a new Melbourne spot that gives you permission to break all the plates and cups you want and it's surprisingly therapeutic.
3. Team Building Quest around Melbourne!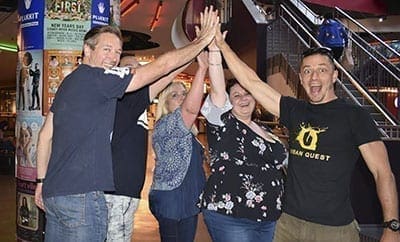 | Price | $ On inquiry |
| --- | --- |
| Duration | 2-3 hours |
| Group Size | All sizes |
| Location | Outdoors (Melbourne) |
Divide and form teams of four to six people to race Melbourne city hunting for clues, solving puzzles, going nuts in flash mobs and completing perky challenges at the most amazing and fun Race around Melbourne – Urban Quest. If you are looking to plan an outdoor team building event that is fun, engaging, physically and mentally challenging, easy guided through your smartphone and is very social then look no further. They've got all these covered for you in one – Urban Quest.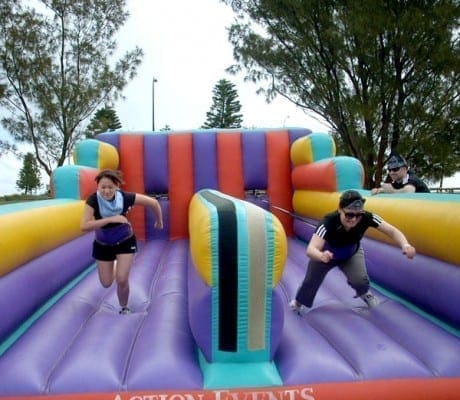 | Price | $ On inquiry |
| --- | --- |
| Duration | 2-3 hours |
| Group Size | 12-200+ |
| Location | Outdoor Space |
"It's a Knockout! That's the name of the game…". At your team building event, teams will enter the arena to the sounds of the hit game show of the 1980s.
With joker cards, outrageous games and lost of laughter, this is a program that will be enjoyed by all.
The It's a Knockout program consists of a number of recreational team building games depending on the goals and requirements of your company. The emphasis is on fun and interaction, with the opportunity to incorporate specific team building games on request.
5. Be Brave – Go Rap Jumping!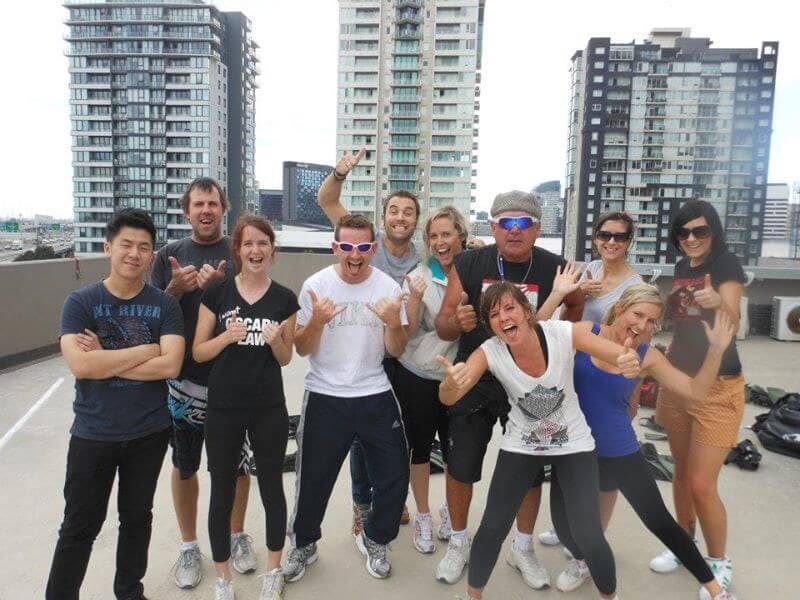 | Price | $ On inquiry |
| --- | --- |
| Duration | 2 hours |
| Group Size | 10+ |
| Location | Southbank |
The team at Rap Jumping will feed your employees' sense of adventure with rap jumping and abseiling sessions that are held in Melbourne's CBD. A team building activity with a difference, staff will leap from the top of a seven storey building and rappel down the side until they reach the ground.
Those who love extreme sports and consider themselves adrenaline junkies can try the forward-facing rap jump method (often referred to as Aussie rappelling), while those who are a little unsure can descend via the traditional backward-facing abseil method.
There is also the capacity for spectators on the rooftop, so those who'd prefer to watch rather than jump are also more than welcome to attend!
Rap jumping is a great team building event to push your team to the edge and beyond – and it's 100% safe.
6. Hollywood Movie Making!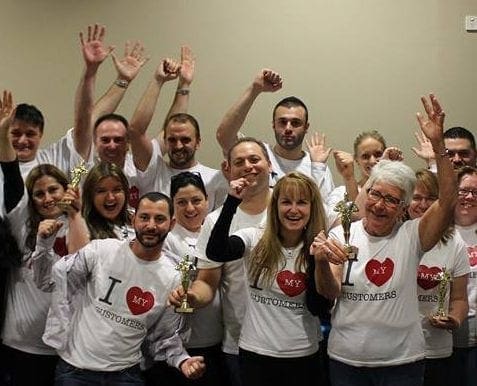 | Price | $ On inquiry |
| --- | --- |
| Duration | Tailored |
| Group Size | 12-400 |
| Location | Flexible |
If you're looking for a creative team building event, Hollywood Movie Making is an excellent choice. Teams create a short film under the guidance of a professional camera director and performing actor, allowing them to gain an insight into line delivery, the art of cinematography and film scripting.
The event is often hilarious and memorable and comes complete with an awards ceremony and screening of films at the end.
7. Building Teams Over Food!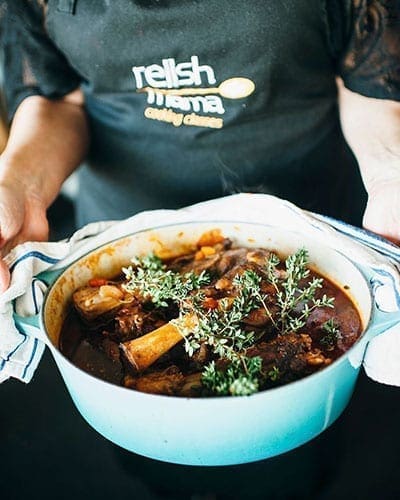 | Price | $ On inquiry |
| --- | --- |
| Duration | Tailored |
| Group Size | 10+ |
| Location | Cheltenham |
Are you looking for an absolutely fabulous personalised function, Christmas celebration or team building activity for your team or very special clients? Their corporate cooking classes south of Melbourne (located in Melbourne's Bayside suburb, Cheltenham) are the perfect solution.
They can create a team building event perfect for your private group be it from a cooking class followed by an intimate dinner to corporate cooking team challenges which encourage communication, problem solving, productivity and group morale. Gathering together at their stunning long table instantly connects people.
It is an incredible and unique experience and the benefits from such an event flow back to the workplace.